The witching hour is upon us where ghouls search for goodies, skulls allude to sweets and cauldrons boil with creepy crawly treats.
It's trick-or-treating time and we have a few spooky suggestions for how you can decorate your home with DYI decor that are fun for the whole family. It's eerie, made easy…
Fly my pretties…
Time to get batty and line your walls, hallways or ceiling corners with the bird of the night, bats! A great idea is to head along to your local craft or stationery store and get your hands on some sheets of black felt or thick card.
From here, take a piece of parchment paper (that's see-through enough) to gently overlay your computer screen and trace an outline of a bat that you could find on Google images. Carefully cut the bat shape out (tip: it's great to get a few different sizes) and then overlay it onto the felt or card. Hold the paper in place with a safety or sewing pin, and then again, cut the felt/card to match the parchment paper. If using card, fold the bats in half to give the impression of them flapping their wings.
Once you have your bat colony ready to assemble, it's time to find them a home. Options are to place each one individually using a safe-to-remove adhesive tape (e.g., painters' tape) or you could gently piece a small hole in each one and use black cotton to hang them from your ceiling, lamp shade, or even your indoor plants.
Added effect: grab a gold or silver pen when you pick up your card or felt to draw on some evil bat eyes!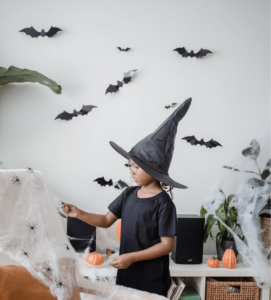 Don't turn into a pumpkin…
Instead, paint a pumpkin! Every year carving a pumpkin is a tradition, so this year why not add to that with painted pumpkins to place around your home?
From orange plaid, polka dots, stripes or even faces, any witch way you go about it, your bright, round canvas awaits…
Wicked welcomes…
You hang a wreath at Christmas, why not hang one for Halloween? You could use one that you keep and use festively each year or create a whole new one using fall leaf colours but add in spooky extras like small skeletons, hanging ghosts, mini pumpkins, stripy ribbon (think Beetlejuice), faux bones, or even blackened greenery to add the macabre factor.
Amazon has a great selection of mini Halloween decorations to pick and choose from.
Here's some inspo:
A tangled web…
Adding the feeling that a giant spider has been around your home is fun, and there are many ways to do it.
Gauze and cheesecloth are great fabric materials for this, however, they don't come pre-creepy, so you need to get crafty. Work out how large you want the web piece to be – a great way is to hang or hold it out so you can get a better visual. Take your scissors and carefully cut the shape/length and then gently grab sections and start to pull until it rips. You can also cut small holes here and there and pull those also, or just add holes in and around your larger rips. The idea here is to make it NOT look neat or perfect. Once you have it looking web-like, stick on fake spiders to give it that little extra!
Yarn is another affordable choice that you can buy at your local craft or fabric store, best used indoors. Here it gets very crafty and does help to attach some sections to your wall as you go, again use blue/painter's tape for no lasting residue. If you're looking to create one outdoors, perhaps a heavier-duty rope options might be nice, that you can attach to hooks along a porch front or fencing.
Click on the below images to get some great step-by-step guides on your preferred result…
Outoors: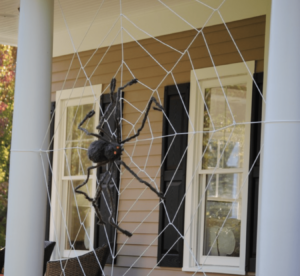 Indoors: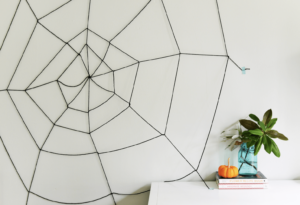 Either: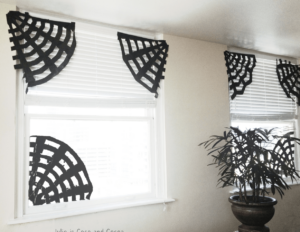 May the fog be with you…
Who doesn't love making food fun, and drinks are no different! To keep things safe and fun, always take the appropriate precautions when using dry ice, but here's a quick and fairly easy way to enjoy making bright, creepy-coloured beverages.
Grab a green Gatorade, a blue Fanta or your choice of coloured beverage, add a few gummy worms to the bottom of the glass and top it all off with a few pieces of dry ice. Handle the ice chips or cubes with a pair of tongs, and we suggest wearing a pair of gloves also – as dry ice is very, very cold!
Fun tip: Offer your drinks in a science beaker vessel for an added Halloween touch or see what fun options are available on Etsy or Amazon for unique, spooky glassware! Adults, here's where you can add in a touch of your favourite spirit to give yours a little edge…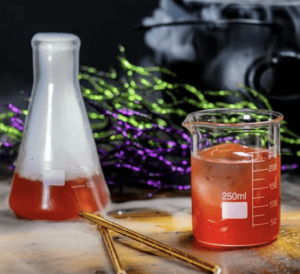 However you celebrate Halloween, whether you get into the spirit (excuse the pun) or not, enjoy the time with friends and loved ones, and make sure to share the candy!