MEET PHIL TARRANT
Phil was raised learning about real estate and carpentry. After completing his Diploma in Business, he followed his parents' footsteps and joined the Tarrant Team, having now been a key member for over 10 years.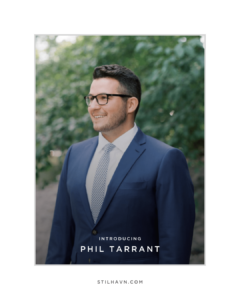 With a love for helping his clients achieve their goals – whether finding a forever home or building a rental property portfolio for generational wealth – Phil's keen knowledge of real estate and construction allow him to go above and beyond expectations. 
His energy, enthusiasm and drive can be witnessed in both a social setting as well as in his work setting, helping to have ledPhil to receive numerous industry awards including the Suttons Diamond award and becoming a Medallion Club Member in 2018.
Looking to continue his trajectory in the industry, Phil is thrilled to be a part of Stilhavn, whom he calls a "fun and inclusive group of realtors that work hard to create a positive impact in our community". When asked what sets him apart as an agent, Phil comments, "My business is as far from transactional as you could imagine. I am friends with many of my clients and just want to see them succeed, however possible". 
 When he's not busy keeping up with what's going on in the property market, Phil keeps very active in the outdoors, enjoying hiking, camping, and heading off exploring with his wife Caroline and dog Remi. Phil is also anticipating the arrival of his son this coming December. 
 So, why Stilhavn? "The feel of working at Stilhavn is dramatically different from a cooker cutter office. Being around great agents that are active in the business and community helping you to succeed is so important. To work at this brokerage is a pleasure."
MEET SUE TARRANT
Sue has been a North Shore resident since 1992. Customer service to her is paramount and for more than 20 years she has helped hundreds of clients with buying and selling their homes.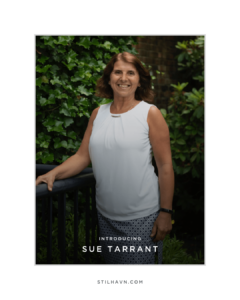 Her attention to detail, strong negotiating skills and market knowledge will ensure you achieve the best possible results. She is patient and persistent and will not stop until the job is done! Sue's personable nature means that she genuinely wants to engage with her clients to understand their interests, wants and lifestyles. For her, it's not about the transaction, it is the desire to make sure that her clients are happy at the end of the journey.
Having started her working career in the tour and travel industry – where customer service is paramount – Sue always loved working with the public. Although the tourism industry was often fast-paced and quite stressful, she loved the fact that things were different every day – when you woke up each morning you were never 100% what new challenges might come your way. 
Similarly, she finds this in real estate, as every deal is different, and every client is different. Because of this, you must be able to pivot and deal with different influences every time. For Sue, this makes real estate exciting, and she genuinely loves helping her clients attain their real estate goals.
When asked what drew her and her other team members to Stilhavn, she replied, "Stilhavn has proven to be a very professional organization that is forward-thinking and has a team made up of high-quality professionals who are well respected in the industry. Everyone has been very inviting and warm to our team since the time we joined."
Previously at Sutton West Coast, where she was employed for over 20 years, Sue consistently placed in the Platinum Club and was also a past Medallion Club member. Looking ahead, Sue's future goals are to continue to provide her clients with the highest level of service to ensure their satisfaction and to create life-long clients.
Married to team member John for 35 years this coming December, they have two children; Katie 32 who lives with her husband Paul and our granddaughter Cruz in California and then Phil who is married to Caroline and lives in North Vancouver.
Keeping active runs in the family, with Sue also enjoying getting out and about, walking and enjoying the beautiful trails and hikes on the North shore with her husband and 3-year-old Vizla dog, Tessa. 
MEET JOHN TARRANT
John started life in a family of builders. His grandfather was a brick mason and with his father and brother working as journeyman carpenters, John also went on to obtain his journeyman carpentry qualifications.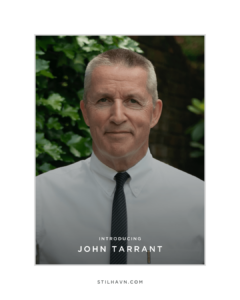 With the family involved in the construction of homes from start to finish, including managing the overall construction themselves, it's been a fantastic environment for John to grow up with and build skills upon to later help with selling real estate.
Deciding to pursue higher education, in 1976 John graduated from the Business Administration program at Okanagan University with a speciality in Marketing. Next, he completed the BC Real Estate licensing Course and obtained his license in 1978. John went on to complete the Managing Brokers course as well as obtain two diplomas from UBC's Urban Land Economics Course in (1) Appraisal and (2) Real Estate Management.
After completing the Urban Land Economics course, John and brother David created a "do it yourself" general contracting kit for building houses. The kit included forms for pricing components, flow charts for scheduling labour, materials, and cash flow, and an instruction book on how to manage the construction of a home. Once the kit was created, John chose to focus on real estate sales and management, going on to spend 10 years working in the real estate department at the Port of Vancouver.
Clocking in with over 30 years of specialized real estate sales, John has excelled throughout his career thanks to his in-depth product knowledge, down-to-earth attitude and a strong background in appraisal and real estate. His carpentry and construction knowledge gives John a keen eye when viewing properties, and he enjoys sharing what he sees and knows along with his clients.
Having been in the business through multiple real estate booms and busts, John has a very good understanding of the business, including a good understanding of what is likely to happen next – based on experience with historical cycles combined with an understanding of economics. Of course, John can't guarantee the future, but his experience can provide excellent insight into the real estate market.
In his personal life, John enjoys camping, travelling, architecture and having as many adventures as possible. John quotes his sister, "As we approach later life, we are all reminded to enjoy life more urgently" – she has a sense of humour – and John tries to personally enjoy life more urgently whenever the opportunity arises.
In closing, John is a "no pressure" guy and is easy to work with. He understands that real estate can be stressful for buyers and sellers but sharing his knowledge and experience can make it easier for his clients to make strong, informed decisions. In a nutshell, John tries to make the process of buying or selling real estate as pleasant and straightforward as possible – and his clients appreciate it.
Q&A:
Q: If someone was visiting the North Shore for the first time, where would you take them first?
A: The old Versatile Shipyards site and Lonsdale Quay at Lower Lonsdale. It's such a beautiful location on the waterfront with downtown Vancouver as the backdrop. Great restaurants, shops, piers, exhibits, an exciting location with a rich history, and downtown Vancouver is only 10 minutes away on a world-class ferry ride. Grouse Mountain would be a close second choice. Incredible views and the excitement of the Skyride.