At Stilhavn, we pride ourselves on being a curated collection of agents, where our backgrounds, strengths and experience all assemble to represent how we stand out as a brokerage.
Each new agent brings their own unique tale, adding to our Stilhavn story.
Meet Eryn…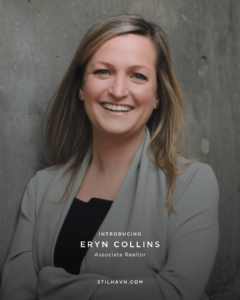 Background
A child actor from the age of 10, Eryn envisioned that would ultimately be her path, however time and other influences led her on many surprise journeys. From backpacking around the globe early in her twenties to teaching acting programmes for children, Eryn since found herself enjoying the bustle of the hospitality industry for the past 20 years.
Real Estate Came Calling
A passionate Vancouver local, Eryn has lived in the Lower Mainland her whole life and has enjoyed accumulating a broad career skill set. And she hasn't stopped adding to it, taking what she felt as a natural pivot into the world of real estate one year ago. Her grandmother in California used to bring Eryn along to showings when she was little, and with her extensive customer service experience, felt the segue as a bit of the right place at the right time.
Uniquely Eryn
Passionate about people, and with a love of design and home décor, Eryn is excited to bring her own individual touch to the local Vancouver real estate market. Understanding that a few classic or contemporary touches can make a home shine, and her ability to stay calm, focused, and attentive during busy moments are areas Eryn can't wait to share with her clients. By doing so, she hopes to celebrate in the joy her clients experience along their buying or selling journey, while working to take any little stresses out of the way at the same time.
Part of the Family
Thrilled to be a part of the Stilhavn family, Eryn looks forward to "working alongside and learning from our collection of industry leaders, while making all her clients' dream home experiences come true."
Sharing what Eryn looks forward to as part of the Stilhavn team, she comments, "It is amazing how many like-minded individuals make up this Brokerage. Honest, real people who are very focused on the human experience. It feels like my path in hospitality and customer service landed me in a work environment suited to those values and I look forward to what the future has in store – when you surround yourself with the kind of professionals you admire, incredible things start to happen!"
"As a new agent, I see Stilhavn as a trustworthy brokerage, with a family feel, filled with leading examples of what a Realtor should be."
Outside the Office
With industry achievements sure to come, Eryn couldn't be prouder of her two biggest personal achievements – her children! She has a daughter, Zoë who is almost two years old, and a son Theo who is almost four. Add to that her five-year-old Husky, Sequoia, and her partner, Albert, –  Executive Chef at an amazing French Bistro downtown – Eryn feels like things are all right where they should be.
When she's not active with properties, she's active around the Lower Mainland, hiking and finding off-leash trails with their dog. And with her other half involved in the restaurant scene, it's highly likely you'll find them both checking out old favourites or somewhere new and noteworthy on date night.
Q&A
Incase you are looking to call Vancouver home, we asked Eryn what her top 3 tips are for buyers setting their sights on the local market…
1.  Spend the time finding the right Realtor for YOU
2. Be open to casting a wide net (Vancouver and the Tri-Cities have so many hidden gem neighbourhoods)
3. Buy a really good umbrella!"