If it's time to let the city lights guide you home, there are a number of fantastic neighbourhoods tucked away in Downtown Vancouver that might just be the perfect location for you.
Downtown; the heart, the core, the hub of it all, with convenient access to everything you need and everywhere you need to go. Filled with a mix of young, old, local and everyone in between, where adventure and entertainment thrive and location over space continues to grow with appeal.
With an assortment of sub-neighbourhoods located here to consider, let's take a closer look at a few of them…
Gastown
Known as the birthplace of Vancouver, Gastown is the city's first downtown hub and was named after "Gassy" Jack Deighton, a Yorkshire seaman, steamboat captain and barkeep who arrived in 1867 to open the area's first saloon.
Gastown originally prospered as the site of a bustling sawmill on the south shores of Burrard Inlet as well as the general centre of trade and commerce, and has since developed into a mix of souvenir shops, fashion boutiques, and indie art galleries along with its own trendy, chic food and drink scene – which doesn't differ greatly from its historical reputation as the centre of the city's drinking life.
In the 1960s, people took to campaigning for the preservation of the area's distinctive architecture and Gastown has since been declared a historical site with its heritage buildings carefully protected to this day.
Settled within walking distance to the Waterfront train station to get around the city, the SeaBus terminal to quickly get across to North Vancouver, to stretch the legs around the Vancouver Seawall and just blocks from endless shopping on Robson Street, you'll find access to everything you need and everywhere you need to go.
A humble mix of old and new, Gastown has many mid and high-rise developments in the area, which provide housing for those looking to call home in more of a unique space. New, smaller condos are also taking up residence here, where urbanites seeking location over space are finding more appeal.
The housing here is as varied as the people you may find living here, which goes to say that Gastown has wide appeal to many residents. From suites, apartments, and lofts – for yourself or with more than one bedroom – you'll find a great space to call home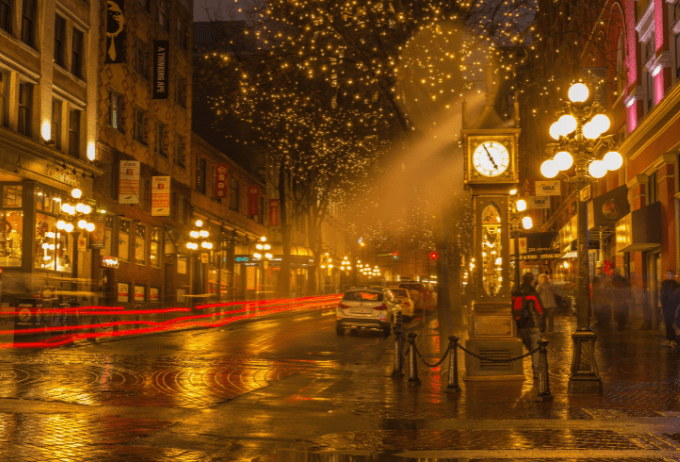 Coal Harbour
Nestled between Gastown, the Business District and Stanley Park, you'll find Coal Harbour. Known for its busy marina and stunning mountain views across to the North Shore, here you'll hear the familiar buzzing of seaplanes coming and going, see both quaint houseboats and multimillion-dollar yachts lining the pier docks as well as catch bright window rays reflecting off the condo towers that rise above you.
The discovery of coal in the harbour in 1962 influenced its name and today the area is a bustling hub, frequently filled with both locals and tourists enjoying the 180° waterfront views and tour bus pick-ups from Canada Place as well as restaurant dining while watching the many ships – commercial and cruise – coming in and out of port.
A relatively new neighbourhood, housing wise, Coal Harbour consists of numerous high-rise residential apartments and condominium towers with luxury townhome podiums. But it's not all glass around here, as you'll find yourself surrounded by forested trails and lakes in Stanley Park as well as stretches of greenery to relax or throw a frisbee for your dog in Harbour Green Park – downtown's longest continuous park.
An ideal location to call home due to its proximity to shopping and transport to the rest of the city as well as being minutes from Highway 99, where you can head north for a weekend away along the Sea to Sky or ferry across to one of the many beautiful Gulf Islands from Horseshoe Bay. If you want to save time, you can easily catch a Harbour Air Seaplane flight from right in Coal Harbour to many nearby destinations for a day trip or overnight escape.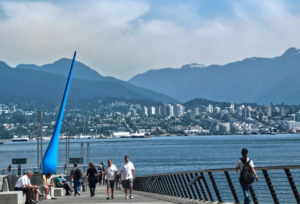 West End
Tucked in between Stanley Park, Coal Harbour and the central core of downtown, the West End started off as a forested wilderness. But with the arrival of the Canadian Pacific Railway (with its terminus in neighbouring Coal Harbour), the West End became Vancouver's first upscale neighbourhood with many wealthy railroad families settling here.
Home to a mix of young, old, locals, and foreigners who have set up permanently in Vancouver, the West End is also home to Western Canada's largest LGBTQ+ community. A neighbourhood where you will also find a growing number of families with children who enjoy a great selection of parks and beaches in the area.
A gateway to adventure with many trails in Stanley Park to see by foot or by bike, a day spent paddle-boarding or kayaking in English Bay, or an evening stroll around the nearby section of Seawall, this neighbourhood also knows how to party. Here you'll find many bars and dining options also – take your pick of high-end restaurants, taco and burger joints, brew houses as well as farm-to-table bistros.
If you're thinking of calling the West End home, this district is full of high-density high-rises, condos, and eclectic apartments to choose from. Imagine being able to step foot outside your front door and grab a late Sunday brunch, or easily walk home from a social night out any night of the week without the need to taxi across town.
The West End offers a variety of housing options including condos, townhouses, and detached homes. But, like most other neighbourhoods in Vancouver, housing prices here have also increased in recent years. However, compared to surrounding areas, this neighbourhood has remained relatively more affordable. This may in part be due to the nature of the buildings in the area, with the residential buildings here having been developed decades earlier than those of its neighbours such as Coal Harbor.
Although this neighbourhood maintains a lower housing price tag, you can still find some of the most expensive properties in Vancouver in the West End, Yes, there really is something here for everyone!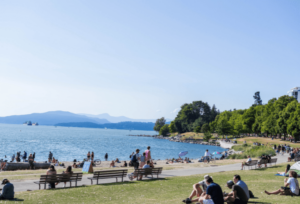 Yaletown
If you walk 20 minutes south from Gastown you'll find yourself in another hip and happening neighbourhood, Yaletown. A trendy upmarket area filled with popular outdoor terraced restaurants, retail shops, and places to take some 'me time', with a great range of hair salons and nail bars to glow up, gyms to sweat out and patios to dine on.
Earlier on, this area was once the Western terminus for the Canadian Pacific Railway, and was named Yaletown after many of the railway workers that resettled here from Yale, B.C. Here you'll find distinctive red warehouse buildings from back when the Warehouse District originated, and were built to include exterior platforms to allow for easy loading of textiles onto trains to be sent back east. Those same platforms are now repurposed as the sunny, urban patios you see today.
False Creek borders Yaletown at its southern edge, and it's along here where you will find the Seawall, perfect for walking and cycling – one direction will take you to Stanley Park, and in the other, Kitsilano Beach. Along the Seawall you'll find David Lam Park, one of the biggest parks in Vancouver.
For those that enjoy entertainment, Yaletown is the perfect location, hosting a number of major events each year including Bastille Day, Dragon Boat Festivals, Carnaval del Sol and the Vancouver International Jazz Festival as well as being within walking distance to BC Place where sports and music fans can always something going on!
An area that typically holds a higher price tag when it comes to property investment in Vancouver, Yaletown has one of the city's most concentrated number of high-rise buildings, making the urban scenery especially dynamic. Yes, you may pay a little more, but the extra is a nice price to pay for the convenience, popularity, uniqueness, and ease of living here.
Residential tower-style living is what you can mostly expect, but not only are you in the heart of a modern-yet-historic neighbourhood, you can take in views of the entire city as well as enjoy convenient complex amenities such as gyms, shared courtyards, and have your very own downtown parking spot.
To get around, there's the Yaletown-Roundhouse SkyTrain as well as handy bus routes to get you where you need to be. By water, the Aquabus and False Creek Ferries will take you to various stops around False Creek, including Granville Island and Science World.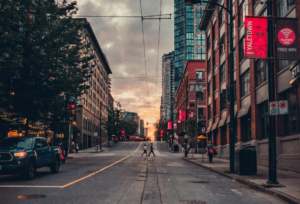 Chinatown
Known for its tantalizing food scene, Chinatown in Vancouver can be found cosying up on the southern side of Gastown. Established over a century ago, Chinatown became a National Historic Site in 2011 and in recent years has undergone a revitalizing facelift and grown greatly with many new businesses. In fact, Chinatown Vancouver is one of the largest historic Chinatown's in North America.
Great numbers of Chinese immigrants first came to Vancouver during the late 19th century, attracted to the area due to the British Columbia Gold Rush in 1858 and then by the construction of the Canadian Pacific Railway just over two decades later. In 1979, a streetscape improvement program was sponsored to add various Chinese-style elements to the area including specially paved sidewalks and red dragon streetlamps. Today, the distinct character of the buildings here are preserved with murals and window art telling the stories of these early Chinese pioneers that came to the area.
A popular spot for locals and visitors to come and enjoy the cuisine and culture scenes that are always alive here, Chinatown is also home to a number of high-rises and new condominium towers under construction. In 2011, there was a vote to raise building height restrictions to help boost population numbers in the area. Taking advantage of unutilized space, new condo towers are being built on smaller lot space to a smaller size, helping to make new homes here more affordable also.
Here, life will be surrounded by rich architecture, a host of many authentic Chinese restaurants as well as places to relax such as the beautiful Asian-style, Dr. Sun Yat-Sen Garden. With a blend of heritage buildings and new condo towers nearby, you'll be at home amongst a wonderful mix of old and new and with traditional businesses flourishing and new investments developing, our wonderful Chinatown continues to prosper.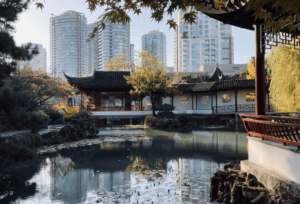 If you like the sound of finding your next havn amongst the social vibes, convenience, and locality of all that downtown Vancouver has to offer, reach out to one of our Vancouver-based REALTORS® today.
They know these neighbourhoods and can help share more information about each and show you through those that best fit what it is you're looking for.