Although the expertise of our Stilhavn family reaches broadly across multiple markets, it's within our local neighbourhoods and communities where each individual agent thrives. Growing up here, raising families here, and connecting with clients through home purchases or sales allows us to deepen the roots we grow here and the knowledge we continue to build.
For our agents like the Den Real Estate Group, the North Shore isn't just where they work, it's where they live and it's where they love to show others looking for a new place to call home. There's pride in being able to show off a location, share personal experiences with an area and build excitement with clients who relate to the same lifestyles and community connections.
Read on to get to know the team and why they love to call the North Shore home…
Meet David Matiru
David moved to the North Shore in 1995 after growing up in Kenya and traveling the world.  Over his 15 year tenure in real estate, David has quickly become one of the North Shore's top sales producers. With 4 children in his family, you will often find David on the sidelines of the local sports fields cheering for his kids. Avid travel enthusiasts, David & his wife Sabrina and have taken their kids to many different destinations all over the world. They most recently travelled to Kenya where they visited David's family farm where he was raised.  Something you may not know about him is he used to swim competitively when he was growing up in Kenya.
Meet Alexa Baughen
Alexa has been working in commercial and residential real estate and design for over 20 years. After spending much of her career working in a senior role with Anthem Properties Group, she joined David to form The Den Real Estate Group which offers family-oriented real estate services across the North Shore. Work/life balance is important to Alexa who believes the best way to learn is through travel and diverse cultural experiences. Having grown up on the North Shore, Alexa loves everything it has to offer including morning runs on the seawall, and hiking with her dog Fern. Alexa is a believer in giving back to the community and has volunteered with many local schools and organizations across the North Shore. The best night for Alexa is a night at home; a table full of family, friends, good food, surrounded by laughter and a little chaos.  She loves her job because her home is her Den and she enjoys helping others find theirs. 
Meet Megan Enns
Megan grew up on the North Shore and still calls North Vancouver her home.  She and her husband Chris have two active teenagers who attend Handsworth Secondary. Megan is an active volunteer at her kid's school and finds time to enjoy all of the great things about the North Shore including walking the local trails and enjoying the Ambleside dog beach with her large bernedoodle, Rocket. Megan has a background in marketing, business development and event planning and is a welcome addition to The Den Real Estate Group team this year. If you know Meg, you will know her favourite colour is pink and she was married in a pink wedding dress!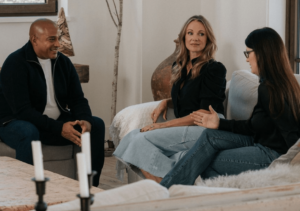 The mission of Deal Real Estate Group is to provide the highest level of excellence in specialized real estate services. The team thrives in "organized chaos" and with ten kids and a busy market, it's often a juggling act. However, involvement in the community provides them with a deep connection to the North Shore and the people living in the community. David, Alexa, and Megan genuinely care about their clients; they are their neighbours and friends. Stilhavn feels like a family and that is why we are so happy to be a part of such an amazing group of Realtors.