At Stilhavn, we offer a space that's conducive to creative minds. From interior design, photography, negotiations and marketing, our agents are confident wearing many hats throughout their day. 
As an agent who learned to balance many roles and opportunities from early on, we're thrilled to welcome Katayoon Webb to our family of many talents. 
Background
Katayoon's journey into real estate actually came by surprise, after her first experience with a real estate agent went sideways. Needing to sell her investment condo while on maternity leave, Katayoon realized her Realtor® lacked the necessary know-how to guide the sale, so decided to take the process into her own hands.   
Thinking that her 12-month break could be greatly utilized by getting her real estate license, that's exactly what she did. That same year, Katayoon sold 19 homes, made 'Rookie of the Year' at her Brokerage, and did it all with a brand-new baby in tow! The rest is history. 
Real Estate
Born in Tehran, Iran, Katayoon started studying art in middle school and went on to attend a High School that concentrated on Graphic Design and Architecture. 
Experiencing "a lack of expression for artists in Iran", Katayoon moved to Montreal when she was 18 to further study Fine Arts at Concordia University. Graduating with a BFA (in painting and psychology), Katayoon feels that her strength and passion – along with her journey to achieving her degrees – have helped mould her into the successful, multi-tasker that she is today. 
Making her way West from Montreal to Vancouver in 2001, her plan was to continue studying the Arts, but thanks to her less-than-helpful Realtor® as mentioned earlier, life carved her out a whole new plan. 17 years after getting her licence, we're lucky enough to have Katayoon's experience and creativity become a part of our team. 
Having lived in both Vancouver's East Side/Commercial Drive area as well as Port Moody, Katayoon loves both areas immensely. "Being an artist and a Realtor®, living in Port Moody (the City of Arts) has been amazing to be a part of, but Commercial Drive and Vancouver East were great in my thirties when I was within walking distance to all the shops, restaurants and being amongst the vibe of young families."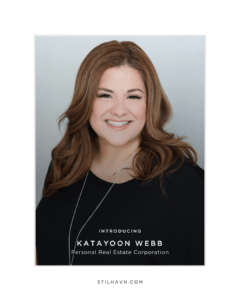 The Artistic Realtor
Wearing an artistic hat, a Realtor® hat and a mother hat, there's one more that Katayoon wears, reserved for when she's running her staging company. Called 'For the Art of Real Estate', Katayoon offers complimentary staging services for her clients' listings. Their homes get vibrantly transformed with her paintings and various props, which certainly help to set her apart as a real estate expert in the Vancouver market. "I like to stand out and help my listings be different than every other staged home". Her dream is to have an Art Gallery/Real Estate office where she helps art meet real estate even further. 
Deeply passionate about what she does and making sure every project she works across is a great success, it's no surprise that Katayoon has qualified as a Diamond Master Medallion award winner for 16 years in a row, and recently qualified as a President's Club member (ranking within the top 1% of local Vancouver agents*). 
Stilhavn
Now on board with Stilhavn, Katayoon looks forward to collaborating with the rest of our agents and bringing her own unique touch. In addition, Katayoon is motivated to help push Stilhavn's values and elevated level of service to more clients within the tri-city areas, offering the many young families who are moving there a refreshing approach to Real Estate. To Katayoon, her client's happiness is her only goal. "The rest happens because of that." 
When asked 'Why Stilhavn?', Katayoon responded, "I wanted to be part of a group that offered something different, one that collaborates instead of competes. When I met with the owners of Stilhavn, it felt like I had 'come home'".  
 Each of our Stilhavn agents has their own set of skills, knowledge and experience and when it comes to Katayoon, what helps to set her apart is that she's an abstract artist, thinking and functioning like one no matter which hat she wears. "I function best in my organized chaos, just like my paintings. Combining art and Real Estate really sets me apart. Staging the homes that I sell has been a game changer, and I've been staging every home I list since 2016." 
Outside of work, Katayoon obviously makes sure to save plenty of time to paint! But also spends time travelling with her partner, enjoying time with her children, having art shows and getting creative in the kitchen.  
Q&A 
Q. Tell us about a hidden talent you have?
A. I can open a beer bottle in one shot with a spoon, and I can "Persian" snap my fingers so loud it sounds like the bone is breaking!  
*As awarded by the Real Estate Board of Greater Vancouver (2022).