From Re-tail to Re-al Estate
After 25 years in Fashion Retail, it took the building and selling of multiple homes on the North Shore for Jason to side-step into the world of Real Estate. 
Born and raised in Edgemont Village, Jason completed a B.A. in English at UBC, picked up his first job at the GAP and moved on to becoming a senior-level sales and operations executive. Becoming well versed in a fast-paced industry, Jason began understanding how to build and connect teams, while recognizing his leadership, communication, and interpersonal skills. 
It wasn't until the pandemic that Jason felt the push to stop selling skinny jeans and start selling houses, joining the well-established Team Clarke on the North Shore. With 12 years of experience building custom homes, it was through this time that Jason picked up first-hand knowledge of home design, project management, permitting and construction, adding each to his skill set. Or toolbox, if you will…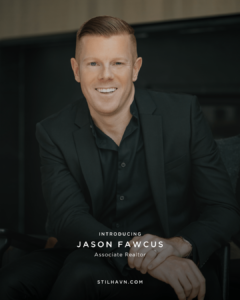 Property Passion
With a passion for people, Jason looks forward to working with not just our Stilhavn team, but meeting and working with new clients across the Metro Vancouver area. Looking forward to each day bringing something new – a combination of new people, new properties, and new obstacles to overcome – Jason is committed to representing his clients with the highest level of integrity, putting their needs ahead of all else. For Jason, it's about becoming recognized as a best-in-class realtor, whose service stands out, generating a positive association that will start to build a repeat and referred client base. 
When he's not focused on properties and client service, you'll find Jason at home in Edgemont Village with his partner, cooking or entertaining. Outside of the home, you'll find him either at the CrossFit gym, tackling the Grouse Grind or biking around his local neighbourhoods. 
Why Stilhavn for Jason
Excited by all-new adventures ahead with Stilhavn, Jason feels motivated by the strong sense of community and connectivity at the Brokerage, commenting that "You don't feel like you are just one out of a million other realtors, you feel like you are part of something great, part of a family".
Why Stilhavn for You
And that's exactly how Jason wants you to feel as a potential client. Not having the same process or needs as others but being there to walk you through each step of your individual buying or selling journey, ride the ups and downs and work through any challenges that you, together, come to face. Working with a Stilhavn agent, you're never a number. You become a friend that we want to share your successes with and celebrate you finding your new dream havn.