Our agents aren't a solo act.
At Stilhavn we pride ourselves on our willingness to collaborate, differing from the norm by freely and willingly working together.
Our new agents benefit from a wide, shared pool of collective knowledge, experience and resources that help them not only grow individually as agents but craft a more elevated experience for their clients.
Bringing her own unique skills to the mix, we're thrilled to welcome Vancouver local, Janine.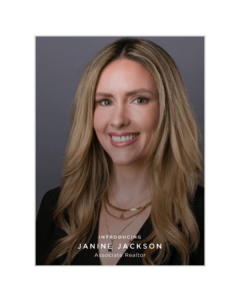 The best thing Janine ever did was buy a house. The excitement and sense of security she experienced is what drives her passion and willingness to share those same feelings with others.
Born and raised in the Lower Mainland, Janine was approached by one of our current Stilhavn agents Cheryl Davie, to join her and her team at Hill and Harbour Group. An offer that was too good to pass up, Janine began her journey with Cheryl and as part of our wider Stilhavn family.
As much as our Realtors® are committed to our mission and the values we hold, we're committed to providing them a space where they can feel inspired and empowered independently, while rising together as a group.
"Stilhavn feels like the best of the best, where no one shy's away from providing the secrets to their success."  
Now having settled into her new role, Janine's focus is directly on her clients. "I want to provide the best possible service so that each of my client's feels the excitement that comes from making a purchase. So that they have complete peace of mind when it comes time to make the purchase, and so they feel completely fulfilled with the purchase they do make."
Janine's clients appreciate her personable and approachable attitude, but another of her strongest assets is her patience. Buying or selling a home is a big transaction, one that Janine doesn't feel the need to rush. For Janine, it's about seeing the joy that comes from keys in hand at the finish line, knowing that the journey was enjoyable, memorable and valued.
Having lived in Kitsilano for the past seven years, this neighbourhood has become home to Janine, loving how green and peaceful the area is but also the proximity to everything she needs.
It's also a great spot to enjoy doing the things she loves outside of work, including hiking, yoga, tennis, and skiing with her son George.