We absolutely love seeing our Stilhavn agents start their Real Estate journey with us, discover it's their passion and continue to keep growing within our team. Meet Carey, who has done just that!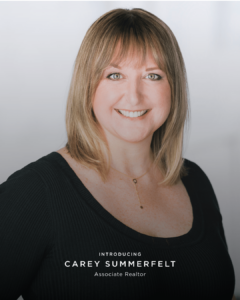 From Events to Real Estate
Previously a successful Event Producer, Carey found herself in a "What to do now!?" position when her industry took a knock during Covid, putting a halt to events and subsequently the roles of people organizing them. Transitioning into the world of Real Estate, Carey sees it as the silver lining to the pandemic, and ultimately a natural pivot – embarking on a new role where she can continue to connect with people and help guide them through a significant moment.
Her Love for the Big City
Growing up nearby in Qualicum Beach on Vancouver Island, Carey has been a proud Vancouverite since 2001. Having loved her years growing up in a small town, Carey felt that to be able to grow into the person and the career path that she wanted, she needed to seek and create more opportunity in a bigger city. After a brief stint in Toronto, she turned on her heels and returned Westbound. "Whoever has lived or visited Vancouver understands that this city has something for everyone, and I don't take that for granted."
Welcome to Stilhavn
A little over a year and a half ago, Carey took up an opportunity to work as an Unlicensed Assistant to the Chimes Real Estate Group – learning from top agents and channelling her inner Realtor®. So much so that she made her own license official! Continuing with the Chimes Group as part of our wider Stilhavn family, Carey loves being surrounded by like-minded people, and helping to enhance the team as well.
If you've met Carey, you know her bubbly personality is infectious, but is balanced out by an incredibly strong work ethic that has helped her gain tremendous respect from her peers. Her goal is to gain the same level of respect from her clients, understanding that this in itself will set her – and Stilhavn – up for success.
A People's Person
As the leader of her basketball teams throughout High School and University, Carey feels this helped shape her ability to connect with people from all backgrounds and is excited to relay that same guidance and support over to those working with her when buying or selling a home.
"I think for me as an agent, I am sincere in my approach and make everyone feel comfortable and supported. I have been told I am very relatable and approachable. Also, I don't like to blow smoke, ha-ha. More than anything, it just brings me joy to see people happy."
Looking Forward
A barrel racer as a child, Carey learnt from early on the art of successfully steering a process or situation forward in the right direction. Excited to now be holding reins as a Realtor®, Carey can't wait to put her best foot forward and represent her clients in the best light. Taking time to work through the steps of every transaction with her clients and taking pride in the end result.
When asked what makes working at Stilhavn so enjoyable, Carey responded with, "When you surround yourself with like-minded people, great things arise. Stilhavn is a family, we have each other's back, we strive to support each other, and we make each other better."
Outside of Work
Basketball was a first love for Carey, and still is a huge passion of hers. When not following along with a game, you can find Carey enjoying family time with her nieces and nephew, or taking it easy with her adorable King Charles pup, Charlie.