At Stilhavn, we're proud to have agents join our family from all corners of the world, and with roots stemming from the land of kilts, castles, and lochs, we're thrilled to welcome Peter Lalor.
Background
It's always interesting to hear how our agents begin their career in Real Estate, as there is often an encounter with a particular property or a connection through a friend or relative. In Peter's case, having watched his father build a few of their houses when he was younger and with both parents working as Urban Town Planners, an interest in property and buildings naturally developed early on.
When Peter graduated from university and was looking to start his career, a chance encounter with the listing agent for their family home landed him a role at the local Brokerage. Fast forward over 20 years since that induction, and he's been selling all kinds of property since – across two separate continents no less!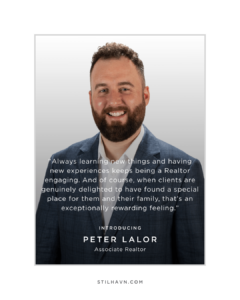 Realtor Life
Now, having been an established agent in Whistler for 10 years, Peter is excited to be the newest Stilhavn REALTOR® in our Whistler office.
Happy to officially be on board, Peter looks forward to working for a Brokerage that, in his words, is "truly comprised of hard-working, full-time professional REALTORS® – something that our industry has traditionally lacked. I'm excited to be a part of this growing business and equally excited to see where it can go in the future. I think Stilhavn can become the industry leader and set a higher standard that others can aspire to".
As an agent still early in his career, Peter has a considerable depth of experience, offering his clients an extremely well-rounded view of the market, Peter works with many repeat clients, focusing on long-term investment strategies and their lifetime Real Estate goals.
When asked what keeps him in the industry, Peter responded, "Not many jobs allow the opportunity for such diversity on a day-to-day basis. A Realtor wears many hats, and a Managing Broker wears many, many more! Always learning new things and having new experiences keeps it engaging. And of course, when clients are genuinely delighted to have found a special place for them and their family, that's an exceptionally rewarding feeling."
It's Not all Work and No Play
With passion in and out of the property market, Peter has a few other main pursuits, including volunteering with the Ski Patrol team on Whistler Mountain during the winter months. "Being part of a team of well-trained first responders and mountaineers is a true privilege, and it's a great way to give back to the place I call home! It's also a great way to disconnect from everything else once a week!"
When he's not on the look-out for those in need, he's fronting a Blues/Rock cover band as a singer and guitarist – a hobby he's had since he was a teenager. Playing gigs all around the Sea to Sky is brilliant fun, and a great way to meet new people, even the occasional client!
Agent Q&A
Q. What made you choose to move to/live in BC, and what is your favourite thing about living here?
A: "Initially I was drawn to some of the best Snowboarding and Skiing in the world, but what makes you stay is the people, the opportunities, and the incredible quality of living that we enjoy every day. It really is a place like nowhere else I've come across."