Our Stilhavn agents are top performers in many regions of British Columbia, including Squamish, a true adventure playland found in the heart of the Sea to Sky Corridor.
And at the heart of Squamish Real Estate, you'll find Tara.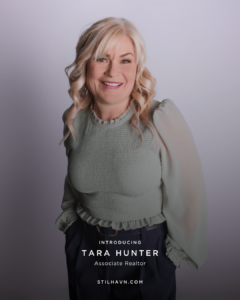 Background
Having called this area home for over 30 years, Tara Hunter initially grew up in North Vancouver. Changing scene for a short time in Australia, Tara always felt herself pulled back toward home, to the Pacific Ocean and coastal mountains.
A career developed in sales and marketing within the tourism industry, but with an underlying interest in Real Estate, it wasn't until Tara landed an early townhome development back in 2000 – selling 64 of its units in just three months – when she became truly hooked on property.
Life as a Realtor
Now, with 20 years in the business, it's being able to provide an elevated, professional service to buyers and sellers in the place she's called home, that continues to make every day just as enjoyable. Being able to share with others what she's found as the number one place to love living, working, and socializing, it really is a continued passion.
To Tara, Squamish has many 'best bits', but it's the hidden neighbourhoods that only locals get to learn about and appreciate that take the top spot. Being able to share those hidden gems, as well as give out tips and advice to a buyer moving into the community is a pleasure, and something that she always enjoys being able to inform and educate new locals on.

As a realtor, Tara endeavours to give back to her community. Whether by being involved directly, or simply by helping to provide the best service to each of her clients, whichever buying or selling journey they're on.
The Stilhavn Journey
Having been recognized as a Presidents Club and Medallion Club Member (i.e., in the Top 1% and 10% of agents by the Vancouver Real Estate Board), as well as having received many outstanding awards with the various brokerages Tara has worked with in the past, Tara is excited to now step forward into the community as part of our uniquely curated Stilhavn family.
Filled with empathy, patience, and passion, plus her knowledge about Squamish and its surrounding areas are what make Tara a strong choice as a realtor. Being able to share the local tales, holding in-depth knowledge of each neighbourhood, and suggesting neighbourhoods best situated around desired amenities like schools, trails, and outdoor activities, are what help to set her apart.
Looking forward to sharing our Stilhavn culture with her hometown, Tara says she is "is excited to work with an extremely innovative team and become part of a wonderful, professional group. One that works together to offer so much more than your larger Real Estate companies – not to mention one owned by local agents."
Life Outside of Work
When not assisting local buyers or sellers, you can find Tara enjoying family time. With four children, two dogs and a cat, every day is naturally a pretty active one. With a love for skiing, hiking, paddle boarding and all outdoor activities Squamish residents get to enjoy right outside their door, Tara also likes to spend time in her Howe Sound cabin when the summer months roll around.
Q&A
Q: If someone was considering a move to the Squamish, where would be the first place you'd take them to see locally?
A: To see the ocean or visit the beautiful beaches found along the river.
* * *
If you're looking for a change when it comes to your next buying or selling adventure, reach out to one of our market leaders today. We're experts throughout the Lower Mainland, north through the Sea to Sky (Squamish, Whistler, and Pemberton) as well as across the beautiful Okanagan. Let us offer you an elevated experience, from the heart, that will stand apart from the rest.