At Stilhavn, we bring together the top talent in the industry.
Talent when it comes to consistent performance, building long-lasting relationships and pushing for change. But our talented pool of Realtors® come with their own mixed bag of additional talents that make them even more unique.
Meet Riley.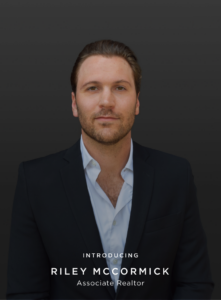 Background
Riley grew up in Victoria and experienced early success as a young diving athlete on Team Canada, getting to compete in not one, but two Olympic Games in 2008 and 2012. Finding this an incredible opportunity to travel the world and become exposed to different cultures and ways of life, seeing more was always on the cards.
After high school Riley moved to Arizona to study Business at Arizona State University on a full scholarship, and afterwards moved on to Chicago where he furthered his education by studying Law.
Knowing at some point he would return home to B.C., Riley moved back and began his career working as a Real Estate Lawyer for a West Vancouver/North Vancouver firm, running their real estate division for two years.
Career
With a deep dive (excuse the pun) into legal transactions – handling upwards of 50 transactions a month – Riley really cut his teeth and started to discover his passion for a career in real estate. Fast forward a couple of years and Riley swapped his lawyer hat for a fresh new Realtor® one.
Obtaining his real estate licence earlier this year, Riley feels his background strengths in the industry reach far beyond the time he's had his licence and can't wait to start navigating the process of helping as many clients as he can enter the market and help them establish their financial future through real estate.
Having made the move from Vancouver to Squamish, Riley finds the sheer beauty of this area unparalleled, and after travelling the world holds Squamish right near the top.
"It's amazing to see how in this community, kids still play outside, ride their bikes, and road hockey. The sense of security reminds me of when I grew up playing outdoors with friends and I want to share that with others". 
When asked why he loves living and working in the area, Riley responded, "Squamish, is an absolute gem tucked away in the stunning landscapes. If you're searching for an idyllic destination that seamlessly blends adventure, natural beauty, and a warm community spirit look no further than Squamish. 
For adventure seekers, Squamish is an absolute playground. The options are endless, from heart-pounding rock climbing to exhilarating mountain biking trails that cater to all skill levels. The Squamish Spit is a mecca for kiteboarders and windsurfers, while the nearby Howe Sound offers thrilling opportunities for kayaking and paddleboarding. It's a place where adrenaline and nature converge in perfect harmony. 
But Squamish isn't just about heart-pounding adventures; it's also a place to reconnect with your soul. The tranquil hikes through Garibaldi Provincial Park and the breathtaking Sea to Sky Gondola ride are experiences that will leave you feeling refreshed and rejuvenated. The sight of Shannon Falls cascading down the granite cliffs is a reminder of nature's grandeur and power, and it's impossible not to feel a sense of wonder in this remarkable place." 
A true advocate!
Welcome to Stilhavn
Being able to combine where he loves to play with where he works, Riley is excited to move forward in his new position with Stilhavn, where he feels surrounded by top professionals in the industry. "Stilhavn sets itself apart by its sheer quality of top-notch people", he adds. 
Riley feels his legal skillset in the industry helps to set him apart as a Realtor®, having gained attributes through previous experiences that he can use in favour of his clients.
Looking forward to helping many new connections navigate the sometimes-daunting process of buying and selling real estate, Riley's goal is to help de-stress any unfamiliar or intimidating situations that may arise.
When not busy helping his clients find their dream havn, you'll find Riley actively enjoying one of the many local golf courses, boating whenever the water calls or visiting family to soak up the sun at their family lake house on the Shuswap Lake.
Q&A:
Q: Where are your top three favourite spots to go in Squamish and why? What would make them special to someone who hasn't visited before?
A:  My absolute favourite place right now is Free Bird. They have an amazing patio and great happy hour with buck-a-shuck oysters. This is a must for anybody passing through on a nice sunny day. Squamish Valley Golf Course is easily #2 given my love for the sport. The people at the course are amazing and remind you of the strong community we have here. #3 would be going up the Sea to Sky Gondola – it is breathtaking and right in our back yard. In the summer they have concerts at the top and they are an absolute blast.