Background
Neal grew up in the Rocky Mountains in Jasper, Alberta, however at thirteen years of age, his family stopped in Squamish on a trip to Whistler and Neal found himself awestruck. He told his parents that one day… he would live there.
Fast-forward, Neal now calls Squamish home and where he has been selling Real Estate for the past 12 years. To Neal, Squamish has it all – the opportunity to grow both personally, professionally… and recreationally! Enjoying his incredible, local support network and the unique lifestyle on offer, Neal relishes the warm, tight-knit community where everyone knows their neighbour, making Squamish really feel like home.
"I am proud of the day-to-day life that I am afforded by having chosen to make Squamish a home for myself and my family."
Neal credits wanting to share the enthusiasm that he feels for his community and his love for people for becoming a realtor – feeling driven to help people achieve their real estate goals. "Everyone has such varied needs and specific situations and navigating this ever-changing dynamic with the properties available keeps me motivated."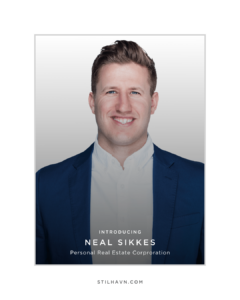 The Journey
When Neal first started, the market was much quieter, where Squamish was often thought of as an afterthought – an affordable alternative to either Vancouver or Whistler. But the times have changed, and Squamish is now a desirable destination. A place where you can raise a family, grow professionally, or go for an epic bike ride at lunchtime or sunrise hike up the Chief.
"I have seen massive growth in our industry since I started my business in 2010.  I'm proud of the relationships I have nurtured as clients navigate their big life choices, balancing opportunities, lifestyle and ultimately happiness."
Over the years, Neal has been a top performer as a Greater Vancouver Real Estate Board Medallion Club Member (which honours the top 10% of agents), and in his time working with RE/MAX, achieved RE/MAX Hall of Fame, RE/MAX Lifetime Achievement awards as well as the Platinum Level Annual Sales Award annually.
Neal loves building relationships as a REALTOR®, something he doesn't take lightly. "It's a privilege to have people put their trust in me to allow my experience and my knowledge of Squamish to guide them along their real estate journey. What a rewarding feeling it is to find the right property for people and then to see that property grow alongside an individual or a family and the opportunities that follow."
Work, and Play
However, Neal's passion isn't only in Real Estate, but volunteering for the Royal Canadian Marine Search and Rescue in Squamish – enjoying the challenges and rewards that the experience has brought him since joining in 2017. "It has opened my eyes as I have seen firsthand how much can change in a moment, whether it being weather or other unforeseen events."
When he's not busy helping clients or volunteering, Neal is spending time with his wife, Isa and his two children; Sonoma and Yarrow, and their new pup Earl. Expecting their third child this summer, Neal also gets to spend time with his parents who retired in Squamish a few years ago.
Why Stilhavn
When asked what he looks forward to working with Stilhavn, Neal feels that the brokerage's values of being relationship-driven, results-focused and strategy-led, fall in perfect alignment with what he subscribes to also.
"Putting clients' needs first has been the foundation of my business and what has kept me working hard during both the downtimes and the times of substantial growth in the Squamish market. I wanted to be a part of a local team, and our team is stacked with leaders in Squamish Real Estate. I enjoy talking shop and working on deals together – it's both inspiring and motivating to be a part of a team that is always in pursuit of a higher professional standard."
If you're interested in finding your new havn in Squamish, reach out to Neal or one of our local property experts today. Welcome home to adventure…