Introducing Lora Proskiw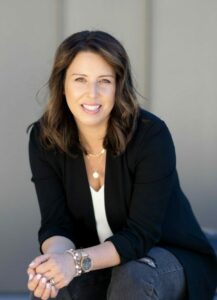 Lora's real estate journey started somewhat on a whim. With a teaching degree in her back pocket, and applications already out with school boards, Lora felt that having a more flexible career alternative on hand wouldn't hurt also.
So, after commencing further studies into real estate, Lora passed her course and was soon introduced to a local real estate brokerage through her own family Realtor®.
Fast forward nearly twenty years and Lora is still as passionate about the industry as day one.
Having moved to the Kelowna area with her family back in the 1980s, her father set up his medical practice and they lived on the Rutland Bench until her parents later brought an acreage in Upper Mission.
When asked why she continues to love it here, Lora shares that Kelowna and the surrounding areas have something for everyone. "It's a mid-size city with the charms of a small town and the amenities of a big, bustling city".
With so many 'best bits' found nestled within the local market, Lora calls out the magical time of year during spring where you can truly enjoy a trifecta of sports – you can ski Big White in the morning, golf nine holes in the afternoon and bike the waterfront in the evening.
Speaking of the waterfront, Lora appreciates so many developments and improvements throughout the area, including South Pandosy District and Abbott Corridor being two of her favourites.
As an award-winning Realtor®, Lora goals are to continue elevating the industry in Kelowna to the highest possible standards. Working now in partnership with Stilhavn, Lora and her team – the LORA+CHRISTY Real Estate Team – have helped to curate a first-class office space that the local market has never seen. As a team their goal is to continue raising the bar to best serve their local and out of town clients.
What makes the LORA+CHRISTY team unique is the blend of skill sets that have created a rock-solid foundation for success. Lora is passionate about the data side of things, homing in on statistics and reading market trends, while Christy brings a strong eye for and experience with marketing and promotion.
As part of the Stilhavn team, Lora looks forward to working alongside other Stilhavn agents who share their same vision and hold the highest professional standards.
"I have been an agent in Kelowna for nearly 20 years and I finally can say that I LOVE coming to work. The meetings are constructive and energizing, the office space is aesthetically beautiful and calming and there is a level of professionalism that I hadn't experienced before."
Outside of work Lora enjoys time with her husband and two (fast growing) teenage daughters, either at home or on family vacations. She loves taking her dog Carley for walks in the evening to their neighbourhood dog park and enjoys listening to crime podcasts.
Neither a night owl or morning person, Lora's perfect day would start at 7am and end at 9pm. She's a great cook and would love to own a lunch and happy hour restaurant on a beach one day. You heard it here first!
Q&A:
Q: What do you think makes Kelowna stand out as a place to call home?
A: "I think it's the fact that Kelowna is built around the most spectacular environment – you just can't build what Kelowna has. The mountains, the lakes, rich growing conditions, the four seasons and mild weather enhance Kelowna to rise above other places that aren't fortunate enough to have these elements to draw from."
Introducing Christy LeGeyt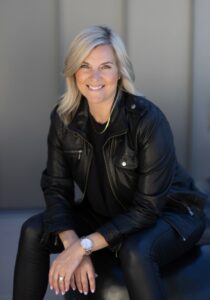 After graduation, this small-town girl from Armstrong B.C. hit the skies, travelling to New York, Taiwan and Greece before returning home and making the move to the big city of Kelowna where she attended UBCO.  
Off again, Christy made her way to North Vancouver (with her soon-to-be husband) where she studied Marketing and Strategic Communications at BCIT, but in the end, the Okanagan called them home and she's been deeply rooted in the community for the past 17 years. 
Merging her studies with her career, Christy started off working in the marketing industry on both the client and agency sides, but feeling unfulfilled, she exited stage left and took a summer to do a bit of soul searching.   
Having a self-confessed love affair with realtor.ca, Christy helped her BFF Lora (her now LORA+CHRISTY Real Estate Team partner) develop her own real estate brand. With heads down bums up in logos, copy writing and promotional strategy, they decided to make it official! So, Christy got herself licensed and has now been working as a full time Realtor® for the past seven years.  
When asked why she continues to love Kelowna, Christy comments "because it's so easy to love…fantastic neighbourhoods, great schools, awesome weather, and short commute times!", Christy also appreciates the City's commitment to active transportation, public parks and beaches.   
"I think we are a city of growth – people want to live here and make it their home. It's the perfect blend – weather, water, mountains, topped off exceptional healthcare at KGH, a world-class University, and an international airport! oh and wine, lots of wine!" 
Celebrating personal and team awards during her time as a Realtor®, Christy looks forward to her team continuing to be at the forefront of the real estate industry, providing exceptional service and advice to their clients.  
"As a team, we are the best of both worlds – data analysis and marketing communications have come together, and we both love to negotiate and get the deals done!" When asked what she loves about working at Stilhavn, she comments that "It's the ability to connect with other agents who also want only the very best for our industry." 
Married with two teenage children and a Whoodle called Leo, Christy enjoys travelling, summertime BBQ's, golf, pickleball, walking Leo and riding her cruiser bike.
Christy, unlike Lora, likes to stay up late, listens to Dateline podcasts religiously, makes a mean martini and LOVES lounging poolside! 
Q&A:
Q. If someone was looking to make the move to Kelowna from out of town, what would you tell them?
A. "Head to our website and check out our robust "Neighbourhoods" page and then take the time to drive and explore the areas, tour the neighbourhoods, and get a feel for what appeals to you. Choosing a neighbourhood is as important as choosing your home."
Introducing Jenna Skoglund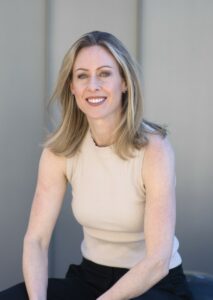 While going through a "the grass is greener on the side" stage in her life, Jenna made the move from Kelowna to Victoria for a couple of years back in her early twenties. Realising that the grass is actually pretty green back home in Kelowna, it didn't take her long to return and appreciate the area even more.
After a couple of successful decades spent in the insurance industry, Jenna decided she needed to focus on a career that felt more rewarding on a personal level. With a keen interest in residential real estate, Jenna found herself transitioning into the world of property and has just celebrated her first year as a Realtor®!
And what a year it's been having had the opportunity to work on a wide and fantastic variety of transactions. "If there's anything I've learned, it's that this industry will keep you on your toes and there will always be something new around the corner."
Originally moving to Kelowna with her family from Richmond 30 years ago, her parents bought a home in the Lower Mission area. Recently, Jenna had the honour of assisting them with the sale of her childhood home as they prepared to move on to their next chapter in life. It was a bitter-sweet transaction but that's one thing about real estate, it has so many emotional ties and life stories entangled within the process. "It was really awe inspiring to be a part of that", she says.
Jenna loves Kelowna for all that it offers year-round. Lake Okanagan, skiing, hiking, biking, and wineries. "I am always looking at my surroundings through the lens of a tourist and realizing just how special Kelowna is and how lucky I am to call it home".
Here there's a great variety of neighborhoods throughout the city; whether you want to be close to shopping and beaches, up on the hills for the lake view, or tucked away on the outskirts for a bit more serenity – each pocket has something special to offer.
Jenna's goal as a Realtor® is to invest 100% of her focus and effort into every transaction that she commits to. "My goal continues to be quality over quantity, and fortunately, the result is that quality work creates quantity. So, it's a win win."
Feeling very fortunate to be a part of not only the LORA+CHRISTY Real Estate Team, but also the wider Stilhavn family, Jenna has found the environment and other agents incredibly supportive and full of encouragement. "Stilhavn exudes an atmosphere where your colleagues thrive on seeing you succeed. It's pretty special."
Q&A:
Q: Where are the Top 3 places you would take someone that's new to the Okanagan area, and why?
Big White Ski Resort. Spring skiing on a bluebird day when the snow is glistening, looking behind you as you ride the chairlift up the mountain, to gaze at the valley full of snow topped trees and crisp ski runs. It's like something straight out of a magazine.
Miradoro Restaurant at Tinhorn Creek Winery in Oliver – the view is incredibly picturesque. If they have live music when you are there, that's a bonus!
A day out boating on Okanagan Lake. Because well, you just have to!