It's not uncommon for real estate agents to develop an interest in the industry after purchasing their first home. A situation that rings true for one of our newest North Vancouver Realtors®, Cheri Townsend.  
"I have been thinking about becoming a Realtor® since I bought my first house when I was 25. After 20 something years in the film and marketing sector, I simply decided it's now or never!" 
And we're thrilled about her decision because she's now part our amazing Stilhavn family.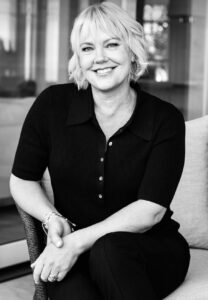 For the Love of Real Estate  
Aside from having experienced the excitement and enjoyment that comes from becoming a first-time homeowner, Cheri finds that being able to now support and guide others through their biggest financial and emotional purchase is what comes as most rewarding. 
With a clear love for people and properties, Cheri also loves where she calls home. For her, North Vancouver has it all. She loves everything that can be found in all directions from her family's sanctuary in Deep Cove, from the mountains to the ocean, the lifestyle and perhaps most importantly… the donuts.  
That Work-Life Balance
At home, you'll find Cheri spending lots of time in her living room – a space filled with light, a very comfortable couch and where Netflix is always readily available. Although jumping off the dock in the summer is a seasonal favourite.  
For fun, Cheri is a ski instructor at Mt Seymour and her kids join in too, heading up to snowboard 3-4 times a week after school. An area that is high on the Lower Mainland's family-friendly list, North Vancouver is their all-season playground with summers spent locally at one of many community events or activities or heading up to the Indian Arm Fjord to take in what Cheri considers some of the most breathtaking scenery. 
Both places happen to be the first place she would take out-of-town visitors or where you could find her on her weekends. When she's not in her car on the way to an open house or making a quick stop at Buzz Coffee Bar that is.
Looking Forward
Coming on board as part of the Kelsie and Morgan Real Estate Group, Cheri looks forward to working with such an awesome team and being able to widen her network by collaborating with some of the most experienced West Coast agents found at Stilhavn. All while she continues to make her clients feel comfortable, knowledgeable and more than anything, right at home.