It's in our nature to be curious. We keep moving forward, opening new doors, and trying new things. Our professional life is no different, and where we started doesn't always determine where we're going to end up.
There are many paths that lead our Stilhavn agents into the world of real estate – curiosity, influence, timing – and for Jenna, it just so happened that 2022 was her year.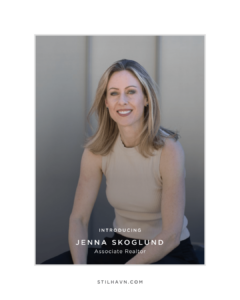 Getting into Real Estate
Something she knew she always wanted to do, it wasn't until Jenna met Lora and Christy (from LORA+CHRISTY Real Estate Team) that she knew it was time to dip her toes in.
Impressed by their work ethic, professionalism and family values, Jenna felt an alignment with her own, and is thrilled to now be working as a part of their team, as part of our Stilhavn Okanagan office.
Starting on her property journey just a few months ago, Jenna feels she has already learned and experienced so much. Being surrounded by a powerhouse of experienced agents, Jenna feels very motivated to provide the same level of service to her clients and with her team's support and guidance, feels nothing but set for success!
She Found Her Passion
To Jenna, the enjoyment is in the house hunting, and how the perfect fit can often be found in the most unexpected places. "It's the tangible part of the process where a property might not have sparked interest on paper, but once a buyer walks through the front door and gives me that "it's the one" feeling, I know I'm in the right place".
With a commitment to make the sales process as smooth and efficient as possible for her clients, Jenna simply wants to be there for them. For them to know she's always available, that their needs and wants are understood and respected, as well as their limitations.
As Part of Stilhavn
As part of the wider Stilhavn Brokerage, Jenna feels a real sense of community, connection, and mutual respect. "We are all here to achieve our individual goals, but we all celebrate the successes of our colleagues alongside us. This style of support encourages me to keep dreaming big, and gives me the confidence to feel like my dreams are attainable".
A wife and a mother of thirteen-year-old twins and an eleven-year-old, Jenna also plays mum to two fur-kitties, Bits and Baby.
Q & A
Q: What's your favourite aspect to selling Real Estate in Kelowna?
A: Whether you live here full time or are looking for an investment opportunity; Kelowna has it all. Skiing in the winter, the lake in the summer, and home to some of the most incredible wineries in the world (arguably my favourite part!). It truly is a gem of a city.