With the holiday season fast approaching, there's no shortage of ways to enjoy the season. From Christmas Markets and Festival of Lights to theatre shows and late-night shopping, December in Vancouver is the perfect time to get out and enjoy all this city has to offer. Below we've highlighted some of this year's most anticipated holiday events.
Aurora Winter Festival
Where: Vancouver's Olympic Village
When: Nov 23rd – Dec 30th
This holiday season, experience Canada's Largest Winter Festival. Escape to a hidden village with a beautiful skating rink, a tube park, massive light displays, a Christmas Market, amusement rides, food gardens, magical characters, and plenty of other exciting activities.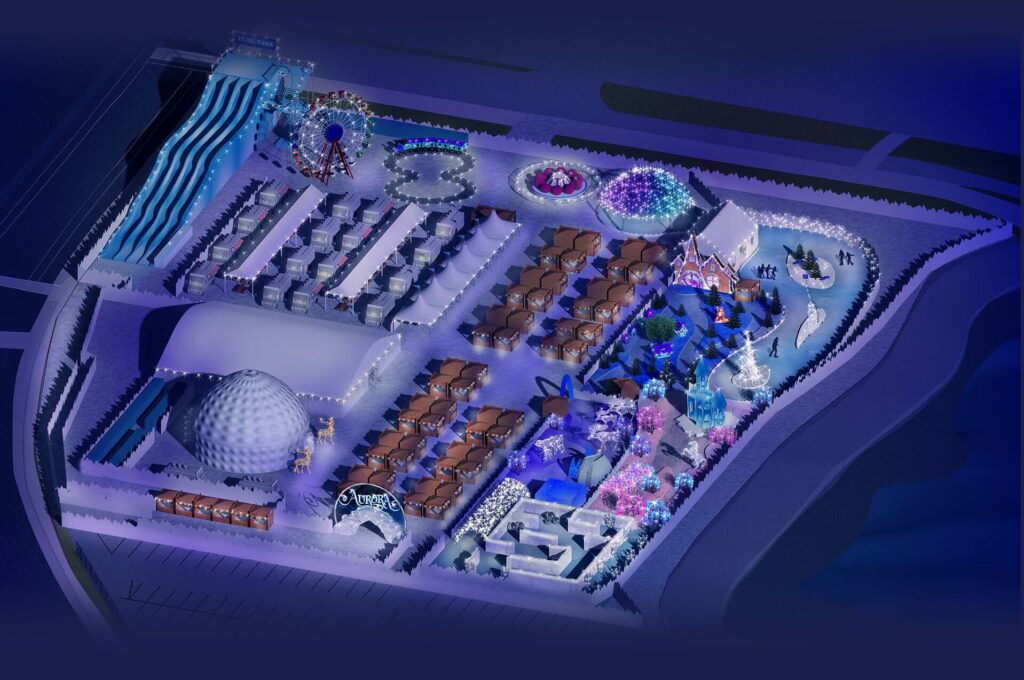 Find out more – https://www.aurorawinterfestival.com/vancouver/
102.7 THE PEAK Presents Its Second Annual 'Not so Silent Night'
Where: Commodore Ballroom
When: Thursday, December 6 2018 at 8:00pm
Returning to the Commodore Ballroom for another night of Christmas excitement, Not So Silent Night is back! Headliners for this year's event include gritty rock duo, Black Pistol Fire and Juno Award winners Hollerado. A DJ follows the live performances playing all the hits to keep the dance party going. Special appearance by the one and only Santa Claus.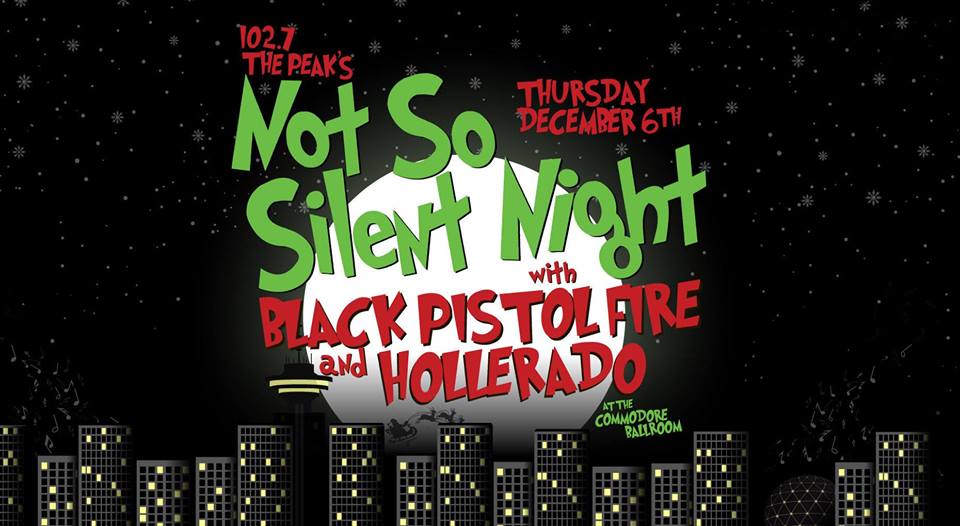 Find out more: www.commodoreballroom.com/view-all/2018/12/6/1027-the-peak-not-so-silent-night
2018 Vancouver Christmas Market
Where: Jack Poole Plaza, Vancouver, BC V6C 0C3
When: November 21, 2018 – December 24, 2018 (Recurring daily)
The Vancouver Christmas Market returns to Jack Poole Plaza, November 21– December 24, 2018, with extended hours from 11:30am to 9:30pm. The city's signature yuletide celebration amplifies and expands its festive offerings with more than 80 huts stuffed with sweets, treats, and treasures.
Wander the market's winding alleys and discover authentic German delicacies: sizzling sausages, two warming Glühwein (mulled wine) locations, old world confections, handcrafted gifts, and so much more! Share food and drink in the cozy Alpine Lounge, or delight in the Winterdeck, featuring stunning views of the North Shore. Venture down Lovers' Lane – an Instagram-worthy 30-foot long tunnel adorned with 10,000 twinkling lights and mistletoe, or enjoy live seasonal entertainment performed on the Christmas Pyramid's Flying Stage.
Be dazzled by a floating Santa underneath the Olympic Cauldron, a shimmering 30-foot tall Walk-in Christmas tree, a glittering carousel, and a multitude of festive family activities.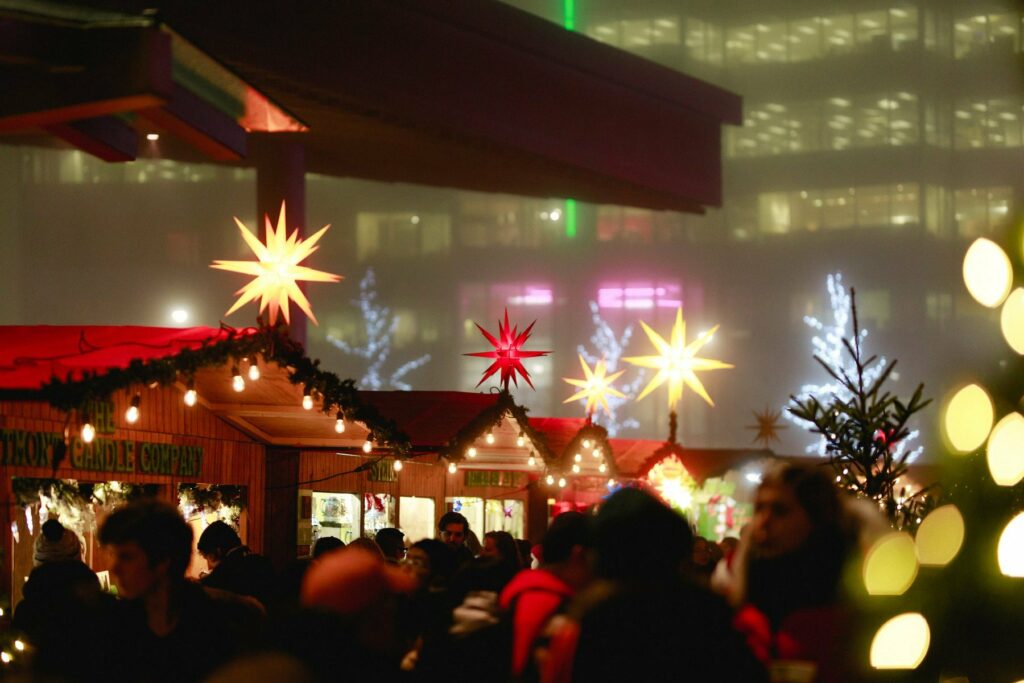 Find out more: www.vancouverchristmasmarket.com
Arts Club Theatre Company presents: Disney's Beauty and the Beast
Where: Stanley Alliance Industrial Stage, 2750 Granville Street
When: December 1, 2018 – January 6, 2019 (Recurring daily)
"Tale as old as time, song as old as rhyme." Can Belle teach the Beast to love, before it is too late? Discover the magic behind the castle walls in this brilliant adaptation of the Academy Award–winning animated film. This beloved fairy-tale spectacle will thrill you with its show-stopping musical numbers, stunning sets, and lavish costumes.
https://www.youtube.com/watch?v=dfySUuJSP8Y&feature=youtu.be
Find out more: www.artsclub.com/shows/2018-2019/beauty-and-the-beast
Bacio Rosso
Where: Queen Elizabeth Park
When:November 1, 2018 – December 31, 2018 (Recurring daily)
Bacio Rosso is an intimate, fully immersive evening of cirque, comedy and cuisine. Guests are seated in the heat of the action with jugglers, contortionists, trapeze artists, magicians, singers and clowns weaving together an evening of magic and laughter. The entertainment is all combined with a delicious 4-course gourmet menu designed by local award-winning chef Adam Pegg of La Quercia.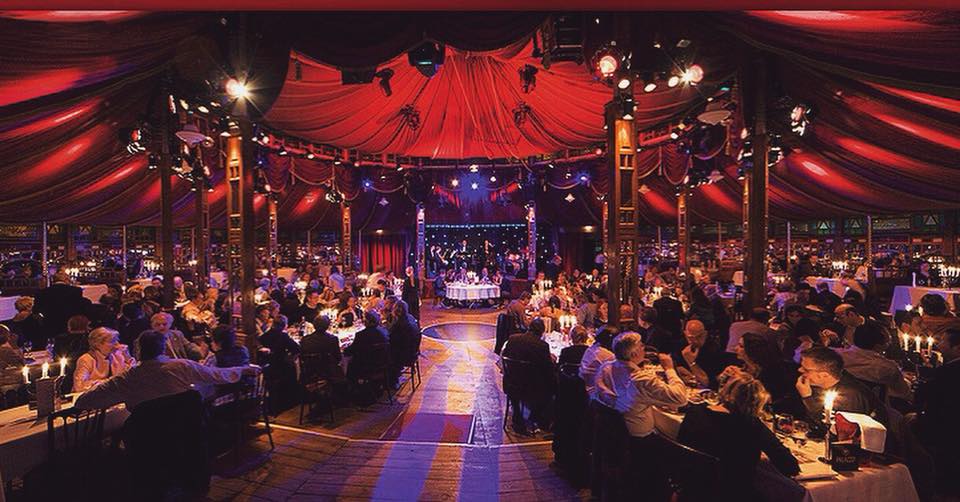 Find out more: https://www.baciorosso.com
Christmas at FlyOver Canada
Where: FlyOver Canada, Canada Place, Vancouver
When: November 22, 2018 – January 6, 2019 (Recurring daily)
Fly like Santa this Christmas on a magical flight across Canada. After meeting some of Santa's elves, Chestnut and Pinecone, you'll join them as they take flight across Canada looking for their fellow elves. You may even get a sneak peek of Santa's Workshop as you soar over the North Pole.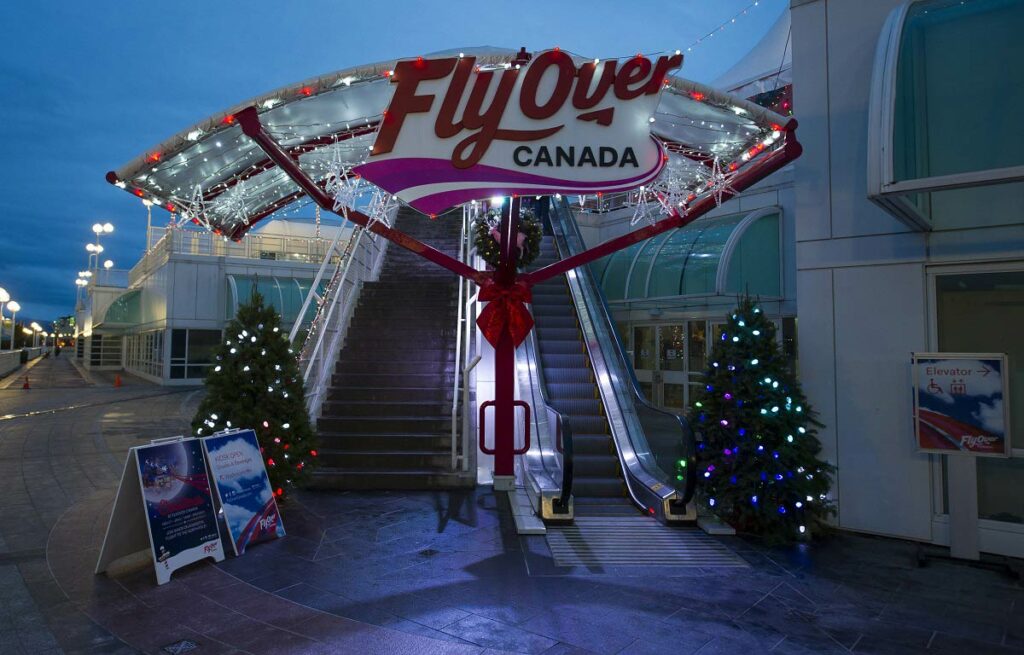 Find out more: www.flyovercanada.com/events-promotions/christmas/
Canyon Lights
Where: Capilano Suspension Bridge, 3735 Capilano Road, North Vancouver
When: November 22, 2018 to January 27, 2019
Celebrate Canyon Lights, A Winter Festival November 22, 2018 to January 27, 2019. Re-capture the feeling of wonder and excitement of the holiday season and be amazed by the hundreds of thousands of lights throughout the park. The suspension bridge, Treetops Adventure, Cliffwalk, the rainforest and canyon are transformed into a world of festive lights and visual enchantment.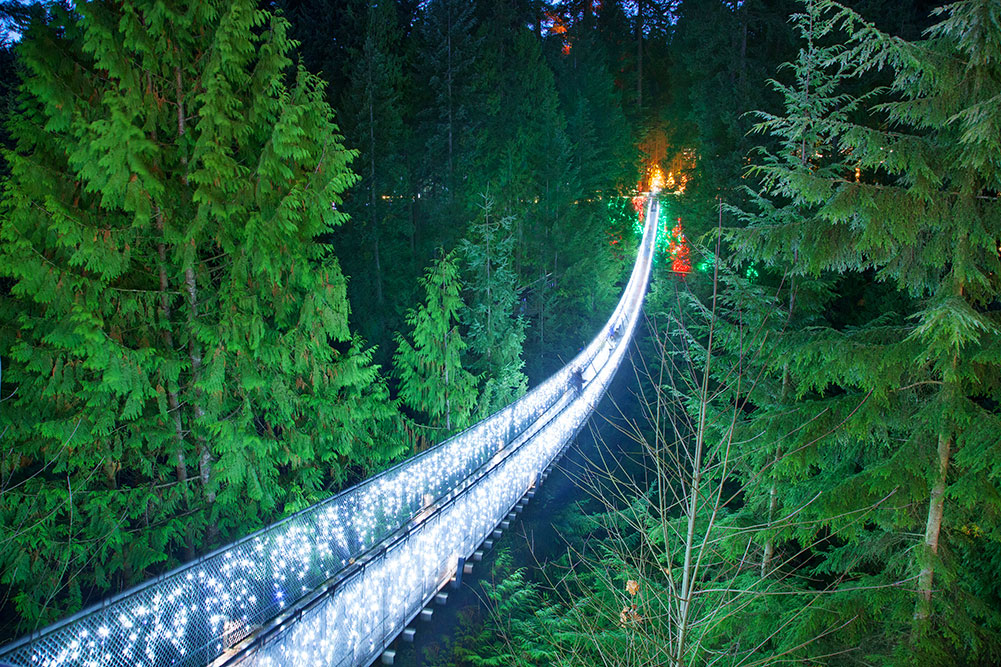 Find out more: https://www.capbridge.com/explore/canyon-lights/
VanDusen Festival of Lights
Where: VanDusen Botanical Garden, 5251 Oak St, Vancouver
When: November 22, 2018 to January 27, 2019
VanDusen Botanical Garden's Festival of Lights is back, from 4:30 until 9:00 pm for the entire month of December, except for the 25th as it's closed on Christmas Day. From around mid-December until Christmas Eve, and then again from Boxing Day until New Year's Day, it is also open until one hour later, so until 10:00 pm.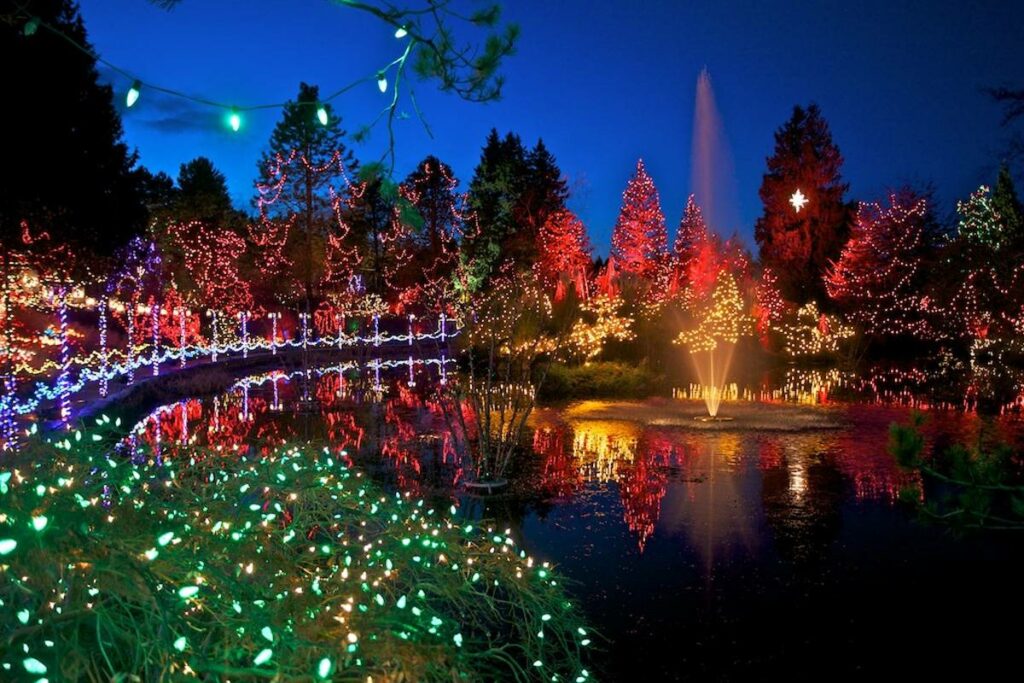 Find out more: https://vancouversbestplaces.com/top-attractions/vandusen-gardens/festival-of-lights/