Born and raised on Vancouver's West Side, Kate enjoys having a deep understanding of her local market and being able to communicate to her clients what they can expect to love within each pocket of it – from the vibrant suburbs to her home neighbourhood of Commercial Drive in East Vancouver.
Though she spent her early professional years working in the film industry, it wasn't until she purchased her first property in 2010 that she realized her true passion lay within the bustling world of real estate.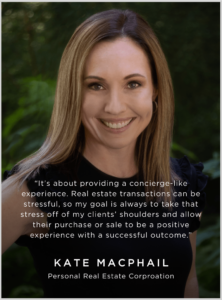 Career Accomplishments
Fast forward 11 years and Kate is an award-winning Vancouver Realtor having received the Platinum Club, Chairman's Club and Hall of Fame distinctions from Remax before joining Stilhavn in 2021. She is also a regarded member of the Medallion Club (Top 10% of Realtors in the Greater Vancouver Real Estate Board).
Expertise & Approach
Kate provides a concierge-like experience for all her clients. She knows that real estate transactions can be stressful, and she aims to shift those stressors from her clients shoulders so that each purchase or sale is a positive experience with a successful outcome. On the negotiation side, Kate is an expert, and leans on the collective experience of the hundreds of past deals she has negotiated as well as her equally valuable relationships within the industry to ensure the best outcome.
Work-life Balance
In addition to her role of principal of The Kate MacPhail Group, Kate is also a mum to two awesome kids. It's not all work and no play for this property professional. With the mountains of Whistler only a short drive from home, it's the perfect getaway destination for her and her family to master the arts of skiing and mountain biking, along with soaking up the downtime with her wife Amber.
Q&A
Q. What makes my home feel like home?
A. I love coming home at this time of year when the Christmas lights are lit up. I'm always smiling as I walk up the stairs to the front door knowing it's going to be warm inside with smiling little faces excited to see me when I walk through the door.