Background
Born-in-Vietnam, bred-in-Vancouver, John Ly finished school before diving into studying Criminology at Simon Fraser University. With a graduation certificate in hand, John began working with youth in the area until he stumbled across the world of real estate…
When a certain condo caught his eye, John paid the 5% deposit and got busy tucking into renovations, only to go on and sell it a year later making himself a nice little profit. It was here that his interest in property was sparked and his passion to help others achieve financial independence began.
Now, after 13 years in the industry, John loves nothing more than helping his clients find their dream home and guiding them toward their goal of becoming homeowners.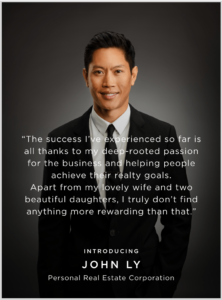 Career Accomplishments
During his time as a realtor, John has celebrated being awarded Medallion Member status for over 10 years (having been recognised within the top 10% of realtors in the Greater Vancouver area), as well as a member in the Medallion Presidents Club (the top 1%) in 2019 as well as most recently in 2021.
With experience across many facets of real estate – land assemblies, project marketing and resale to name a few – it's his work ethic that John takes pride in when it comes to his profession, making sure that his levels of communication, pragmatic advice and service are second to none.
Work-Life Balance
But it's not all work and no play. With two young daughters keeping him on his toes, John and his wife love nothing more than heading away for the weekend when he has some time off, to relax at their home on the beautiful Sunshine Coast.
Q&A
What is your favourite thing to do in Vancouver?
Going for a walk and grabbing a coffee at a local coffee shop on South Granville or West 4th Avenue, heading to Kitsilano Beach in the summer, or snowboarding in the wintertime at Cypress Mountain. When it comes to anything active, I'm there!